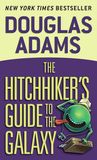 The Hitchhiker's Guide to the Galaxy by Douglas Adams
My rating: 4 of 5 stars
I finally know the answer to life, the universe, and everything.
This was my third attempt at reading this book, because it's just so gosh-darned silly that I could never get past the first three or so chapters. Well, what was the difference this time, you might be asking. The difference was a British gentleman by the name of Stephen Fry. I would have never made it all the way through this admittedly short book without the voice talents of Stephen Fry. The man is a genius! Every character had a completely unique voice, and they were all engaging. I'm not positive which came first, the movie or the audiobook, but Fry's version of Arthur Dent sounded incredibly similar to Martin Freeman, who played Dent in the movie.
I'm not usually an audiobook girl. I tend to get frustrated with the slow pace and pick up the print version of whatever book I was listening to, because I can just read faster. But I never had that desire listening to Fry. He was absolutely fabulous, and now I want to track down other audiobooks he's read. Just another reason to wish I was British, so I could have Audible access to his readings of Harry Potter. *disgruntled sigh*
Onto the book itself. I'm pretty sure Douglas Adams is a national treasure of the U.K., as he well should be. These books are meant to be silly, and they most definitely are. The tone of his writing was great, and I love the idea of the story, but something about the humor didn't translate well for me. It was just too much, somehow, as stated earlier. Honestly, the book itself would have been somewhere between a 2 and 3 star read for me (please don't lynch me!) had it not been for Fry's marvelous audio. His reading saved the day and bumped the book up to 4 stars for me. I did end up really enjoying listening to this story, though I'm not sure I'll continue the series. However, I'm glad to have read this book, and to now understand the cultural references and impact Adams provided here.
So long, and thanks for all the fish.
(4)